Dear Authorized BRG Sports Dealers,
Statement From Giro Regarding Terraduro & Terradura Shoe Delamination
Giro has been made aware of the fact that some customers are experiencing quality issues with their Terraduro/Terradura shoes. It's frustrating to hear this, but we're here to make it right.
What Happened: Nearly all off-road cycling shoes are constructed by bonding an outsole to the shank with a combination of primer and glue. This is a standard assembly process that is used by all shoe manufacturers. For the Terraduro/Terradura shoe, the rubber sole is bonded to a nylon shank. Unfortunately, there was a limited manufacturing issue with some Terraduro/Terradura shoes in an early production run. The manufacturer utilized the wrong primer against Giro's specification, which resulted in poor bonding between the outsole and shank. This was a manufacturing error that happened in the factory, and it is not a result of a new manufacturing process or design flaw specific to the Terraduro/Terradura shoe. The shoes were simply assembled incorrectly, which resulted in a delamination issue. This issue is limited to construction of the Terraduro/Terradura and does not impact any other shoes that Giro produces.
How Giro Addressed the Issue: As soon as the manufacturing issue was identified, Giro immediately worked with the factory to fix the issue. Giro directed the factory to use the correct glue and primer required in the specifications, ensuring correct Terraduro/Terradura shoe construction. No quality issues have been reported since the assembly process was corrected. Not only did Giro correct the Terraduro/Terradura manufacturing, we also redoubled our QC efforts in response to this issue to ensure that it does not happen again. Prior to the Terraduro/Terradura, Giro experienced less than a 0.5% return rate on our footwear collection since its launch in 2012. However, in response to the Terraduro/Terradura assembly issue, we improved our testing on the production line and increased our final QC inspection. Giro hired a manufacturing expert to ensure that all QC steps are being adhered to throughout the entire manufacturing process. We also added a chemical expert to our manufacturing team who has 35 years of experience in shoe construction. This person is responsible for writing protocols for all shoes to ensure that the correct bonding agents—primers and glues—are used in all shoe construction 100% of the time. The Terraduro/Terradura shoe assembly issue been resolved, and Giro has improved the manufacturing and QC process on the production of our entire footwear collection.
How to Identify if Your Terraduro/Terradura Shoes Need Replacement: You can easily identify if your Terraduro/Terradura shoes need replacement by checking to see if they are marked with a date code. Terraduro/Terradura produced during the production run with manufacturing issues did not receive a date code, and these shoes will be replaced by Giro. To check for a date code, simply lift the removable insole out of the Terraduro/Terradura shoe and look for a white, stamped date code. If there is a date code, the shoes were produced to the correct manufacturing specifications. If there is no date code, the Terraduro/Terradura shoes were not constructed correctly and need to be warrantied.
How to Replace Your Terraduro/Terradura Shoes: Giro has a great warranty policy that will repair or replace Terraduro/Terradura shoes that are experiencing quality issues, subject to certain conditions. Just give us a call at 800-456-2355 or email us at giro-consumersupport@giro.com to learn more.
Here is the latest update from SRAM President Stan Day on SRAM's Road Hydraulic Recall and the status of the Model Year 2015 SRAM Road Hydraulic Brakes. This update notes the production start, as promised, in the second half of April, 2014. More technical updates and timeline information on when product will become available will be shared in the coming weeks.

Watch the video.
Dear Ridley Bicycle Consumer,
We'd like to draw your attention to the SAFETY NOTICE we have just posted on our web site (insert link here). It concerns the Ridley bikes sold equipped with disc brakes and a front quick release lever that can come into contact with the front disc brake when improperly adjusted or left open while riding.
As the professional operator we know you are, we need your help in making sure as many of our customers (yours and ours) are made aware of this potential danger. Please use your best efforts to make sure this important safety information reaches everyone.
Thank you in advance for your cooperation!
Should you have any questions, feel free to contact our customer service at: 0032 13 668552.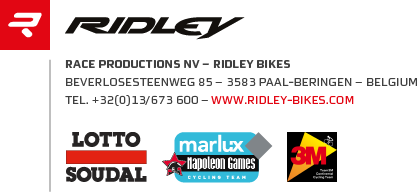 Best Regards,
Ridley Bikes Team